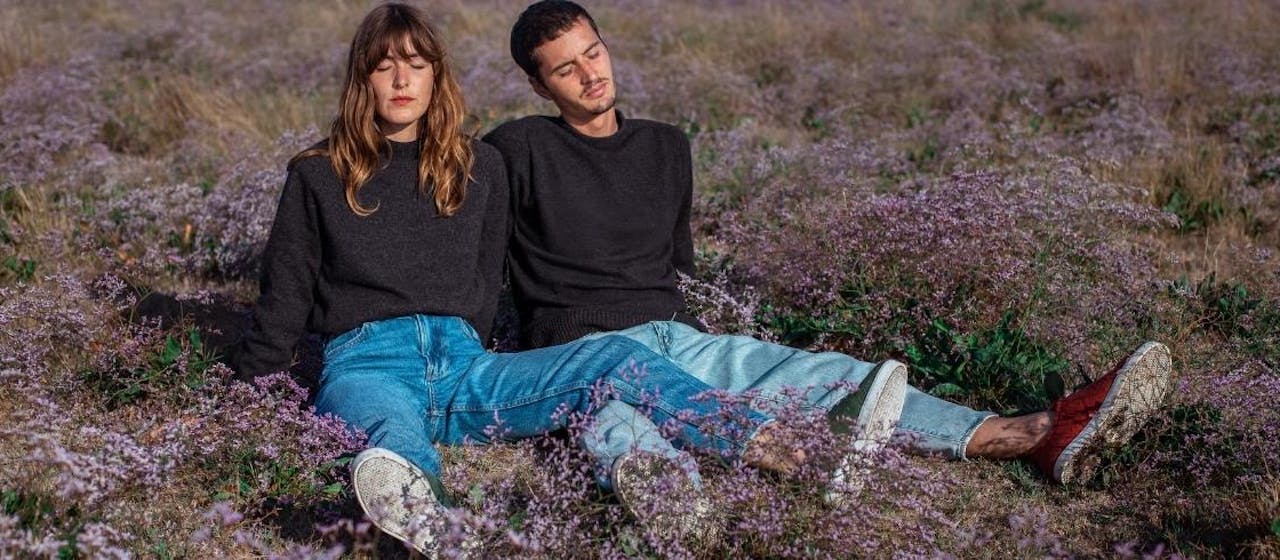 29 October 2021
The story of our sweater
After many months of developing, we are proud to present our new sweater in recycled merino wool. Knitted in the Jean Ruiz workshops in Roanne (France), it embodies the promise of a sustainable, comfortable and responsible garment.
The story of our recycled wool sweater
We have been looking for a yarn a long time. Both recycled and resistant, it had to meet the specifications that Ubac set for a more sustainable fashion. We found our dream yarn in an Italian mill near Bologna, one of the few to recycle merino wool in Europe.
As for its manufacture, we did not hesitate for a second. We turned to the Jean Ruiz workshop: 1600 meters from our offices, we have a relationship of proximity and trust with this company that already manufactures our beanies since 2019. 
The result: a fine, timeless, thermoregulating sweater, which does not itch (we tried to wear it directly on the skin, and we were surprised how pleasant it was), but also ultra responsible and accessible!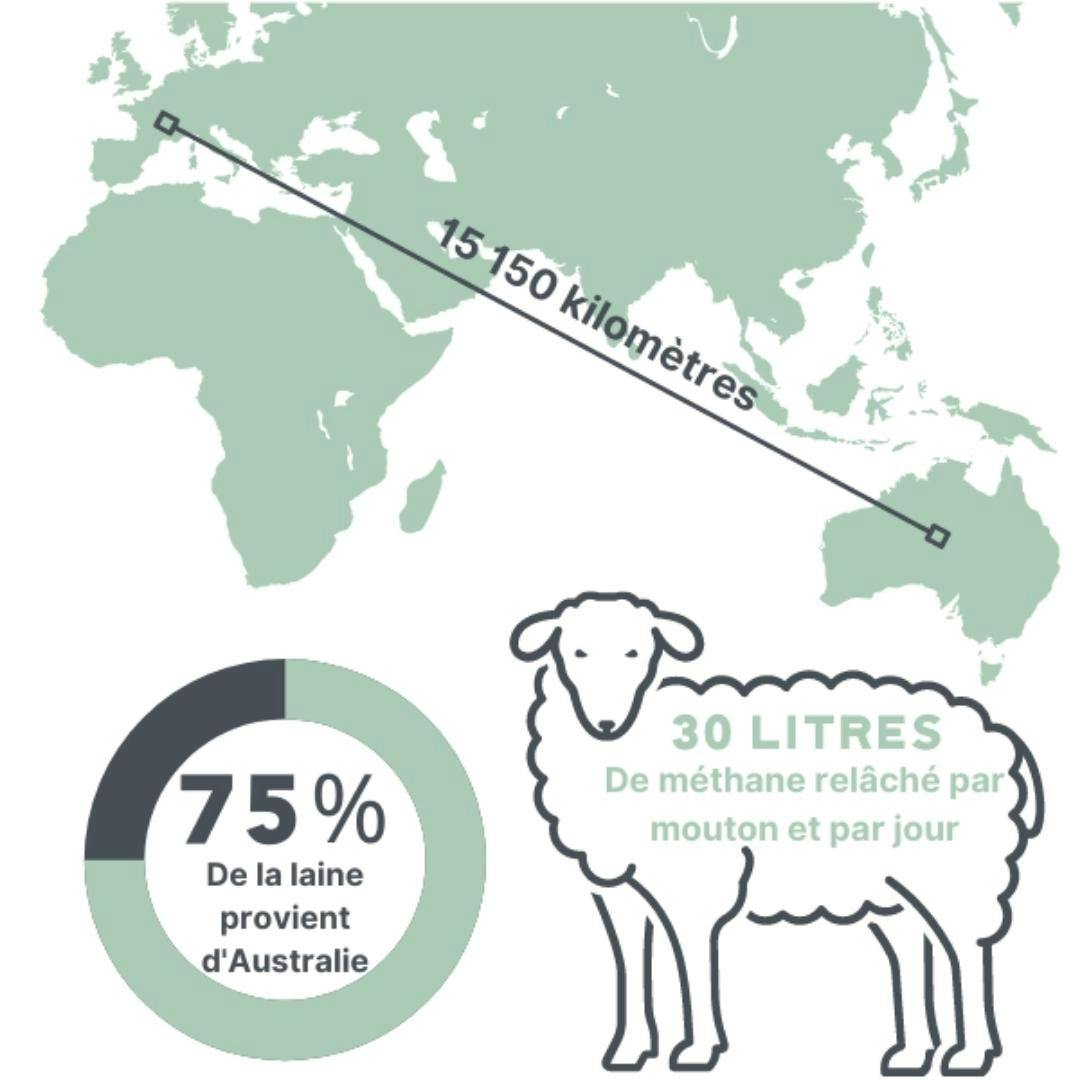 The problem with virgin merino wool
Conventional merino wool is mainly imported from Australia and is very polluting. Two reasons:  
Sheep farms in Australia and New Zealand are very intensive. 
As with all such farms, they release a lot of methane and other pollutants into the atmosphere and waterways (because of their excrements), not to mention the deforestation linked to the expansion of the pastures. As an example, a sheep releases 30 liters of methane, a gas 24 times more impacting than CO2, into the atmosphere per day, and with about 1 billion sheep on earth, one can quickly do the math.
Between France and Australia, there are 15,150 kilometers, which are mainly covered by boat or plane, and when you know that 75% of the wool comes from this country, you can imagine the carbon footprint. At Ubac, we have always wanted to work locally, with the shortest circuits possible. Knowing that we could recycle clothes, have our yarn woven in Italy and manufacture the sweater in France, we did not hesitate for long to abandon conventional merino wool.
Last but not least: in terms of animal welfare, the type of farms that produce conventional merino wool is also subject to debate. A common practice on sheep is mulesing, which consists of removing the skin from the tail of the animal to limit infections. At Ubac, in addition to having a preference for recycled materials, we are not very fond of the suffering of our woolly friends (or hairy, with scales or shells for that matter).
So we bet on a composition that uses a lot of recycled merino wool, which keeps the characteristics of virgin merino wool while being more respectful of the environment and the sheep. In addition, recycling is by its nature a logic of revalorization and job creation.
Unfortunately, it is impossible to manufacture a 100% recycled merino yarn. A recycled natural fiber is shorter and requires the addition of new material to be sufficiently resistant. Ubac, as a transparent and responsible brand, is always on the lookout for technical improvements in textiles, which is why our goal is to eventually manufacture our sweater with a 100% recycled and local yarn!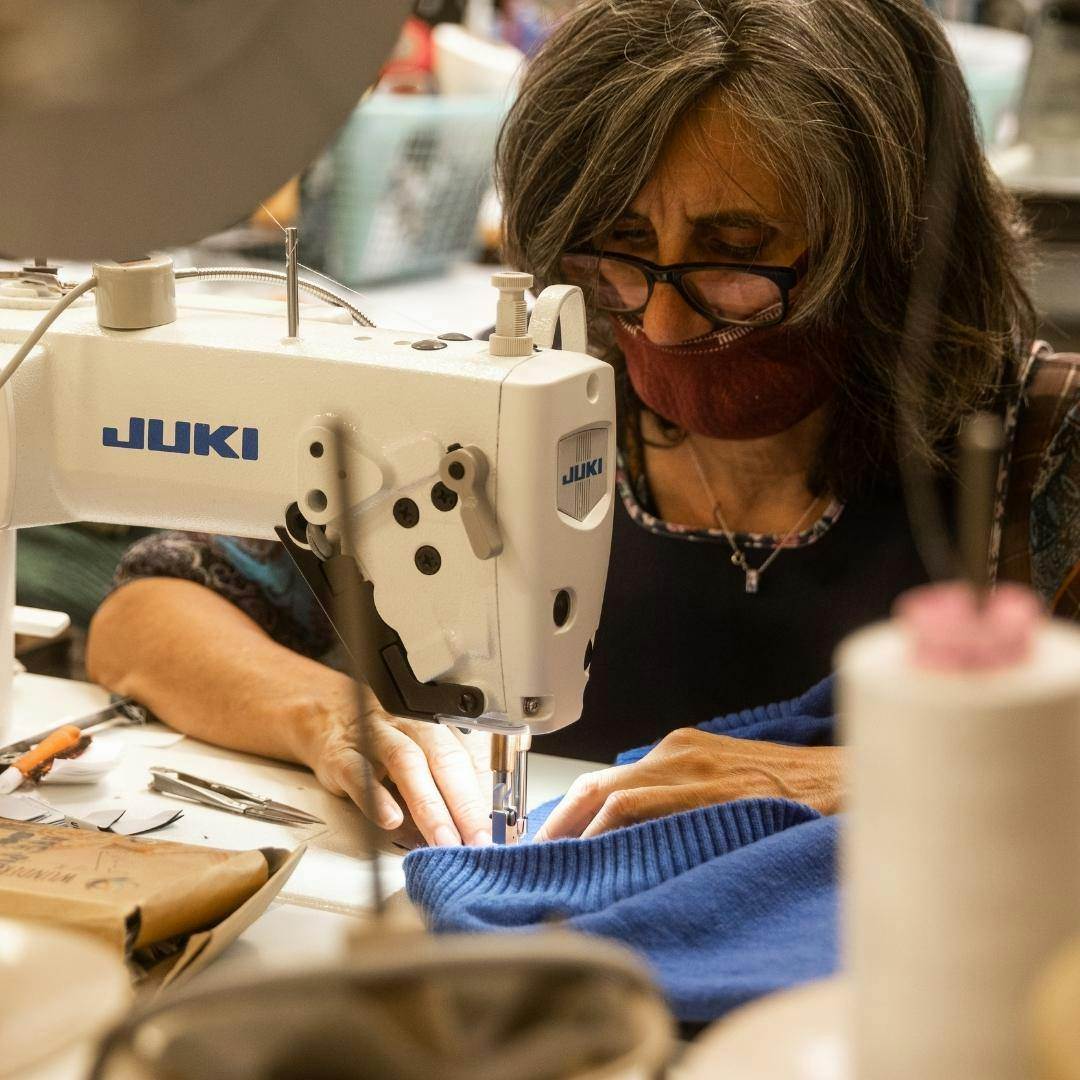 Enhance and benefit from the French know-how of the highly skilled workers of the Jean Ruiz workshop
As illustrated by our massive use of recycled wool, the Ubac team loves to recycle. All the more reason why we have once again put our trust in the Jean Ruiz workshop. Indeed, this little gem of French technique almost closed in 2018. Thanks to Karine Renouil (we'll tell you about her amazing story right after), the company could be saved, which allowed her to safeguard a unique, local, but also ancestral know-how. Indeed, located in Roanne, the factory is the witness of the long past in hosiery and weaving of the city, attested since the Middle Ages. The workers who make the sweater have long years of experience in sewing, and their apprentices benefit from this knowledge during their training.
An outstanding woman: Karine Renouil, AKA the rescuer of manufactures.
Karine Renouil has been running the Jean Ruiz workshop since 2018, when she took over the struggling company to gain recognition for its historical expertise. 
Born into a family of weavers during the decline of textiles in France, Karine Renouil spent part of her life advising companies. In 2016, Karine is looking for renewal. She then changed her path and returned to the textile industry by buying up workshops and factories in decline.
Karine Renouil (left) and Mathilde Blettery, co-founder of Ubac (right) in the Jean Ruiz factory in Roanne, during the recording of the podcact "Les Nouveaux Aventuriers".
In 2016, she took over the spinning mill of layettes in Pau. 
In 2018, she saves the Jean Ruiz workshop and its jobs. The adventure continues in 2021, when she takes over the Marcoux factory. We wish her all the success she deserves!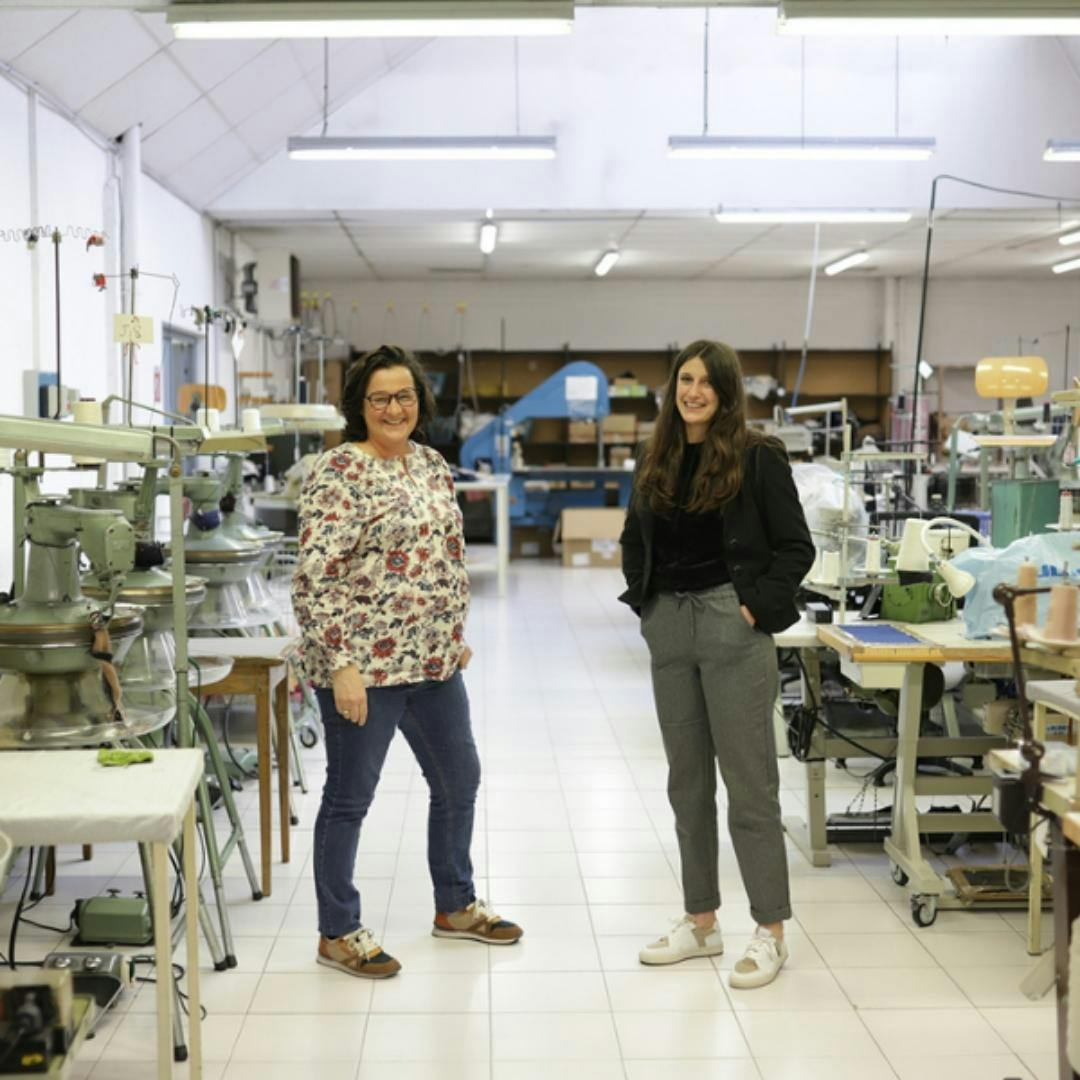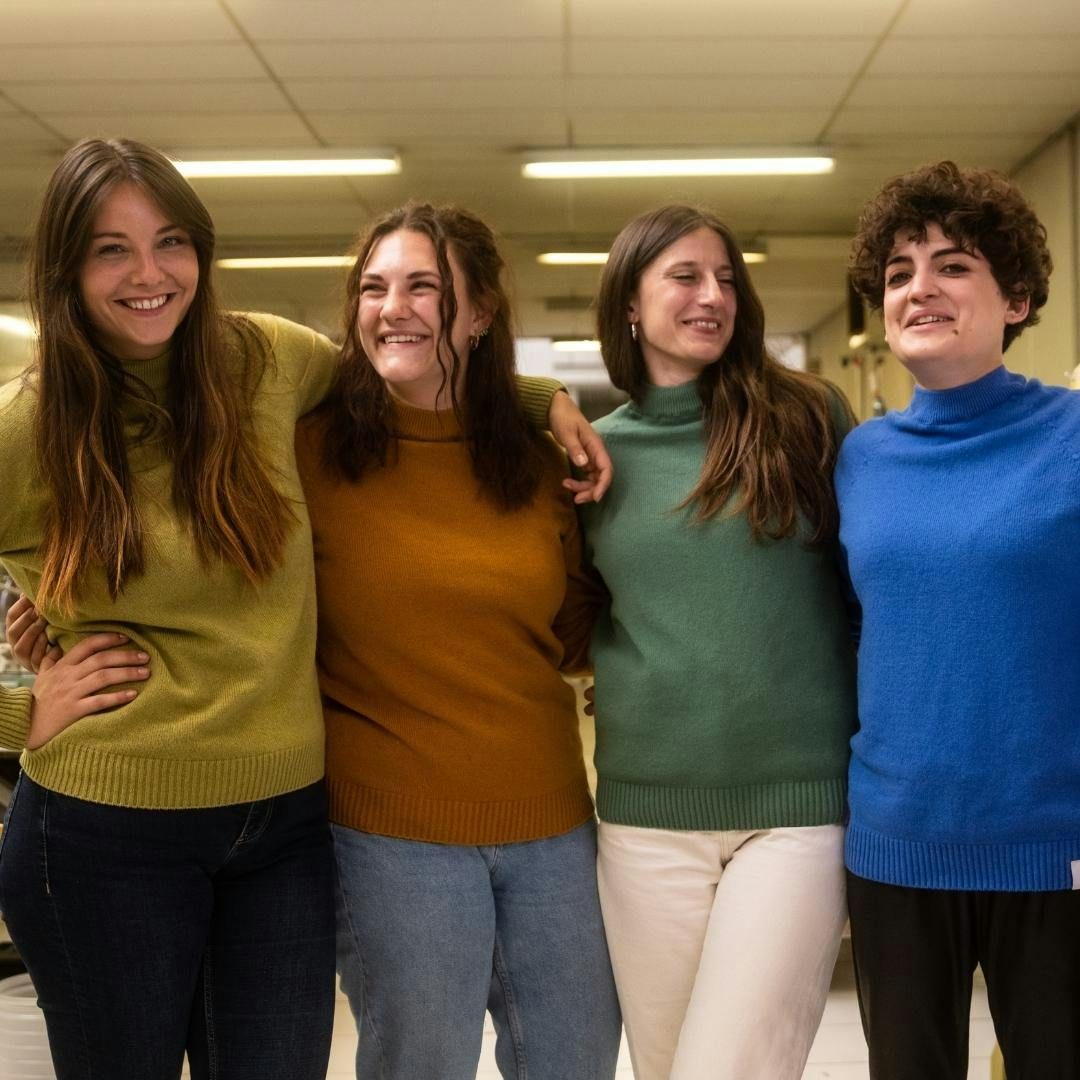 Ubac launches into ready-to-wear with a sweater of great quality.
Going into ready-to-wear was a challenge for Ubac, one that was met with great success by Adeline, our stylist, who was thrilled to create a product whose design is totally different from that of a sneaker. The apparel market is very competitive, and we hope to make a difference with a durable and affordable product. Ubac customers, we also thank you for your help: thanks to the development surveys, we were able to understand your expectations. In fact, we have had many requests for a V-neck sweater for women, and your request has been heard: still with the Jean Ruiz workshop, we are in the process of making this little wonder.

The jersey knit chosen for this sweater ensures its fineness, warmth and resistance. Its timeless style makes it the most chic of responsible clothing. To make sure you'll love it for a long time, Adeline designed this sweater with a classic cut and a high or low round neck. We like to create basics, just like our sneakers, so your wardrobe will always be up to date.
The sweater is not itchy and is not too thick. Indeed, the thinner the wool, the less likely it is to itch. And that's good, merino wool is known as one of the finest wools.

The sweater has the same characteristics as the sneakers: in addition to being ultra resistant, it is also thermo-regulating (one of the natural properties of wool) and keeps you warm while avoiding sweating. Another feature: this garment does not retain odors and wicks away moisture, so you can wash it less often. Nature will thank you!
In addition to being of exceptional quality, our sweater remains affordable. It is proposed at the price of 99€, the minimum when we talk about a sweater made in France with recycled materials. It is a matter of paying decently each small hand that participates in its manufacture, but also to pay a recycled yarn, which is more expensive than average because many steps are involved in its production (collection of old clothes, sorting and shredding of the latter, spinning ...).

The sweater is available in 12 colors (6 women, 6 men), from sober colors to more original shades, everyone will find something to suit their taste. As with all Ubac products, when you buy a sweater, you contribute to the League for the Protection of Birds, since one percent of our turnover is donated to them.
Sources : The Good Goods, PositivR.