Women's eco-responsible sneakers
Sneakers
Discover our sneakers designed from a rigorous selection of natural and recycled materials: recycled wool, hemp, linen and recycled cotton.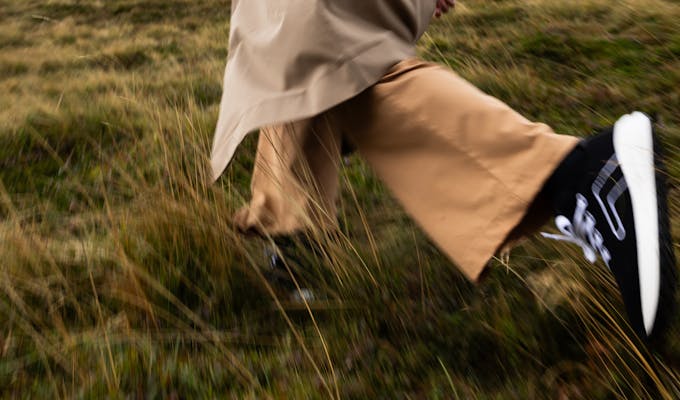 Eco-responsible women's shoes
Since its creation, Ubac has been committed to designing eco-responsible sneakers made of natural and recycled materials.
In an ethical approach, concerned about the environment and human well-being, we have our shoes made in excellent workshops in Portugal, with recycled wool in France, hemp in the Kana collection and other materials with low environmental impact. Here you will find ethical sneakers for women. Ubac also offers a range of eco-responsible sneakers for men.
The environment of fashion and footwear is often black or full of brands doing green washing at indecent prices. It is, generally opaque to hide the way our jeans, sneakers and sneakers or shoes of all sizes are produced, often at the cost of the environment and social conditions, as with leather and plastic. Sneakers made of leather or other materials that are not very eco-friendly, it is rare to find eco-friendly and vegan sneakers in all sizes. At Ubac, we aim to be part of the ethical brands promoting eco-responsible fashion in France and Europe to offer alternative sneakers at the right price, from 35 to 46.
Welcome to a world where sneakers can be made of animal materials, but also vegan and always made in Europe: no leather sneakers, but shoes whose manufacture is environmentally friendly and ecoresponsible. Welcome to a world of low top sneakers, high top sneakers, colored sneakers (from white to black, including all the colors of the rainbow), natural, vegan and recycled materials. Welcome to a world of resistant, comfortable sneakers that will accompany you for many days. Let yourself be seduced by shoes made of natural, recycled or vegan materials in all sizes. The ethical shoes you were dreaming of are here!
Are you looking for eco-responsible, vegan, leather-free and ethically sourced sneakers to complement your daytime and evening looks and in all sizes? Whether black, white, colored, natural or recycled, at Ubac, we offer a wide range of low top sneakers available on our site, find the pair and sizes of your dreams for comfortable shoes.
Ubac is a brand of eco-responsible sneakers, made of recycled and ethical materials. Our sneakers are made of materials that respect the Earth: recycled rubber soles, recycled cotton canvas, recycled wool or hemp, no leather and little plastic. Each sneaker model is designed with an eco-responsible approach.
Our products are Made in France or Made in Portugal in an ethical approach. Ubac recycles its wool in France, in the Tarn, an innovative material that does not need re-dyeing, and given the value of water, this is priceless.
The eco-responsible Vola, Terra, Terra V and Vola H sneakers are the trademarks of Ubac. Made of recycled wool Made in France and assembled in Portugal, with an eco-responsible sole in Green EVA or recycled rubber and laces in recycled plastic. They are made in Portugal to guarantee ethical, recycled, responsible sneakers at a fair price and with low impact materials.
We are expanding our product collection with cotton sneakers. The Koto model is made of recycled cotton canvas, with a recycled rubber sole and recycled plastic laces, making it a leather-free vegan sneaker. We offer timeless, sturdy sneakers for people who are looking to consume ethically and find good shoes.
Another model of vegan and eco-responsible sneakers: Kana, a sneaker just as responsible made of hemp canvas, linen, rubber and recycled plastic.
Our products are made to last, to be timeless and in robust materials, as resistant as a good leather and with a thoughtful price.
Ubac's goal: to reinvent responsible fashion by creating sneakers from recycled or natural canvas, soles and laces. Shoes that will accompany all your day or evening looks. If you are looking for ethical and responsible footwear brands, you have come to the right place.