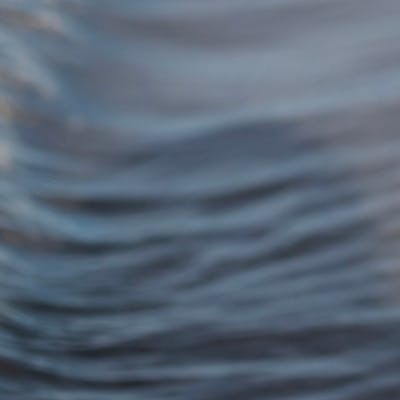 NATURAL & RECYCLED MATERIALS
R-SKIN® recycled rubber
- Ultra waterproof and perfect for the beach
Cork sole
- Ergonomic and lightweight for maximum comfort
Green EVA® outsole
- Non-slip for all grounds
LOCAL MANUFACTURING
Portugal (North) - upper, lining, outsole l Spain (South) - midsole
Handmade in Portugal
Shipping & Returns
Delivery:
Delivery is offered in France* from 50 € of purchase.
Preparation: your order will be prepared under 1 to 3 working days.
Delivery: once prepared, your order will be sent under 24 to 72 working hours at your residence or in point relay according to your preference
Return:
The return is offered in metropolitan France*. You have 60 days from the reception of your shoes to benefit from the free return.
The returned items must respect the following conditions:
- they must not have been worn outside
- they must be in a new condition
The procedure for making a return is available on the "Returns and Exchanges" page*.
Shipping costs and return shipping costs for international shipments are available on https://ubac-store.com/retours-echanges/
Cleaning
When your sandal is dirty, simply clean it with a little soapy water on a soft cloth or sponge.
Composition & details
Composition:
Upper in R-SKIN® rubber (70%) and recycled rubber (30%) - PORTUGAL
Midsole 100% cork - PORTUGAL
Outsole in Green EVA®, sugar cane ethanol (60%), vinyl acetate (40%) - PORTUGAL
Inner lining in PLA, (20%) polymer from corn waste, (50%) recycled polyester, (30%) adhesive fiber - SPAIN
Details:
Everyday sandals
Unmatched comfort.
As durable as leather.
Cork insole.
Naturally rugged recycled rubber upper.
Soft sole for superior cushioning.
Assembled with a solvent-free glue (water-based glue).
Recyclability
The future is recyclable
AURA is a 100% recyclable sandal. It can be returned to Ubac by writing to us at contact@ubac-store.com to be recycled and reintegrated into future productions.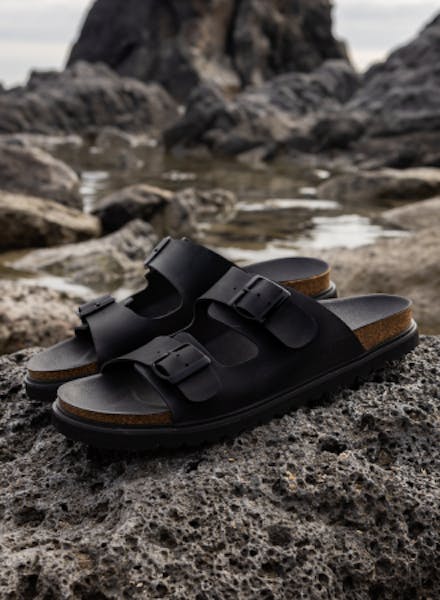 RECYCLED RUBBER
R-SKIN®
R-SKIN® is a sustainable alternative to leather. It is made of a blend of rubber and recycled rubber. It recycles production scraps and old soles to form a sustainable and recyclable material. Recycled rubber is also naturally waterproof, perfect for the beach or during a rainstorm.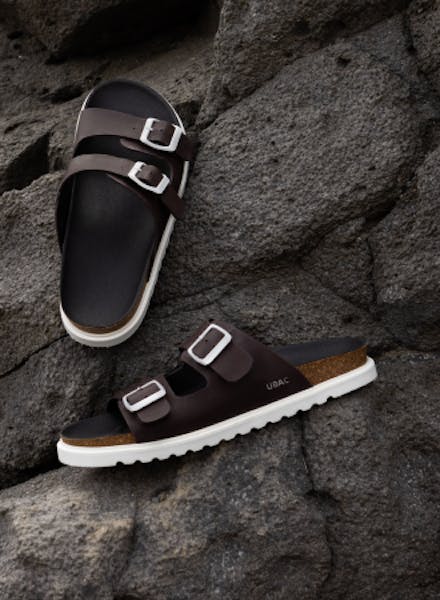 SOLE
Cork
The cork comes from eco-managed forests in Portugal. This midsole provides great comfort thanks to the natural lightness of cork and its ergonomic shape.
Green EVA®
A natural alternative to traditional EVA, Green Eva® is made from sugar cane that retains excellent technical properties such as lightness, strength and cushioning. This outsole is also slip resistant.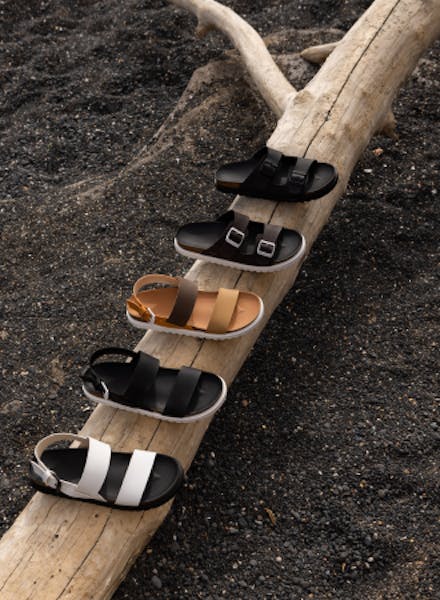 RECYCLABLE
Future is recycled
Our sandals are 100% recyclable. They can be returned to Ubac by writing to us at contact@ubac-store.com to be recycled and reintegrated into future productions.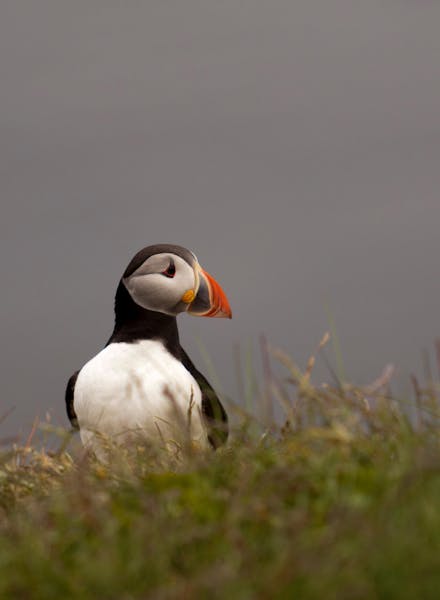 ACTION
1% for the LPO
Because nothing beats action, we donate 1% of our turnover to the Ligue pour la Protection des Oiseaux, a French environmental protection association.
Our donations are freely distributed in favor of the protection of species, conservation of spaces or education and awareness.