1% of the turnover donated to the LPO
Made of recycled cotton
From old clothes, the cotton is recycled, spun and woven in Alicante, Spain.

Round shape
This cap is inspired by baseball caps. The cut fits all head shapes.

One size
The metal clip in the back makes it easy to adjust the size.
Delivery and return
Delivery:
Delivery is offered in France* for orders of 50 € or more.
Preparation: your order will be prepared within 1 to 3 working days
Delivery: once prepared, your order will be sent within 24 to 72 working hours to your home or to a relay point according to your preference
Return:
The return is offered in metropolitan France*You have 60 days from the receipt of your items to benefit from free return.
* Delivery and return costs for a shipment abroad are available on https://ubac-store.com/retours-echanges/
Durability & composition
This cap has a carbon footprint of 1 kg CO2e according to an independent assessment by Carbon Fact. 82% less impactful than the industry average (8 kg CO2e).

Low impact natural materials:
GRS-certified recycled cotton, which not only certifies the recycled content of a product but also verifies compliance with environmental and social criteria
Recycled cotton (70%), Ecovero (30%)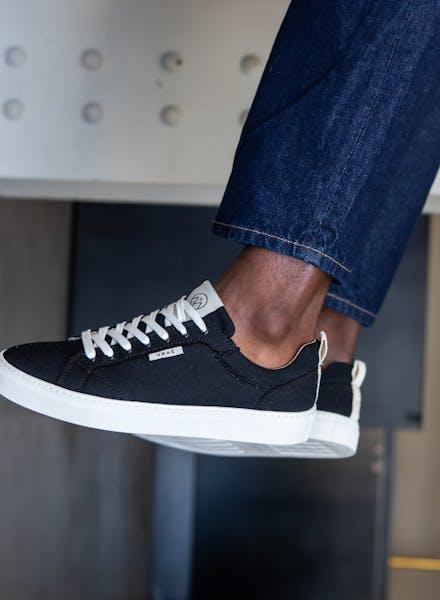 La semelle
Interne
OrthoLite® Hybrid-Eco™
Cette semelle ergonomique utilise des déchets de production et du caoutchouc recyclé
Externe
GREEN EVA ®
Alternative naturelle à l'EVA classique à base de canne à sucre qui conserve des propriétés techniques d'excellence comme la légèreté, la résistance et l'amorti.
Eco-responsible cap in recycled cotton

Here is our collection of eco responsible caps made of recycled cotton twill (with added organic cotton) with the Ubac logo. The trademarks of this cap? It is an essential fashion accessory at a fair price, summer and winter, for men and women, available in a variety of colors, from black to beige. At the right price for the planet and the environment, one size fits all. Add this marvelous hat with a rigid visor (sporty cut) to your wishlist of accessories made of responsible materials! So, ready to go eco with this recycled and organic cotton product that limits its impact on the environment? If cotton twill doesn't interest you, we also offer recycled wool caps (GRS label), or an eco-responsible recycled wool beanie (also GRS label), so you can put on your head a lot of responsible accessories at the right price for the environment and humans.

Eco-friendly cotton cap
Why do we talk about eco responsible caps? Let's start with the most important : the materials used. Already, our recycled cotton twill cap has the GRS (Global Recycled Standard) label, which means that we use recycled cotton fabric to make it, as well as organic cotton, limiting the impact of accessories. This is already a lot in the eco responsible approach: cotton uses a lot of water, and for conventional cotton, a lot of chemicals that pollute the water and endanger the woman who dyes, the man who weaves, etc.. When we produce accessories with responsible materials such as recycled fabric caps, we use cotton already present in France (which can be organic) and which is then considered as a waste. It is recycled without using dye or other unsavoury products. This is one of the trademarks of recycling: taking waste and turning it into gold! This is how our cap is made.
Beyond the material of the cap, Ubac makes its products (whether it is the sneaker, the cap, the sock, the sweater or the beanie) in Europe: either in Portugal or in France, always with natural and / or recycled materials. The goal is to have a look at the way our manufacturers work. This also explains the price of our caps: this accessory is produced with recycled fabric, which costs more than making caps in polyester or conventional cotton. That's why we don't make many promotional offers: our caps are priced right for people and the planet with a lower impact.

The cotton used at Ubac is spun and recycled in Alicante, Spain, to give a resistant (even without polyester) and eco-responsible yarn. The cap is made in Portugal. Our materials in general are chosen to be as natural as possible and are mostly recycled. This cap is mixed, its classic cut (sport type, baseball) will suit both women and men, it is suitable for everyday life and sport.
In terms of style, our recycled and organic cap is available in several colors: black, denim blue, navy blue, khaki or beige. It has a classic baseball cap cut and features the ubac logo embroidered on the front. Its visor is very rigid and allows to keep the shape of the cap. Ubac caps combine durability with a recycled cotton GRS label (even better and more resistant than organic cotton alone!) and a rigid visor that does not deform, sobriety with colors and a timeless logo, but also respect with a price worthy of its exceptional manufacture.


Eco friendly wool cap


It has an incomparable quality-price ratio for this price! In addition to a style that makes you immediately want to add it to your wishlist, even when you are a beanie fan (whether organic or not). And by the way, if you think you'll miss the warmth of the wool in your beanie, don't hesitate to discover our recycled wool caps, with a different cut from the baseball hat (or cap, as you prefer), but a visor as rigid and at the same price as these!
At Ubac, our trademarks: to make sustainable clothing, at the right price, with an ethical production in Europe and bio-sourced and recycled materials and fibers. Who said that fashion and eco-responsibility could not go hand in hand? So, are you ready to take the plunge?