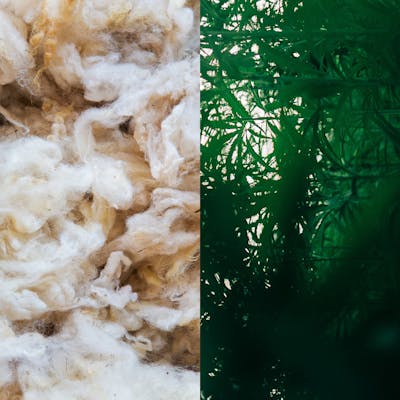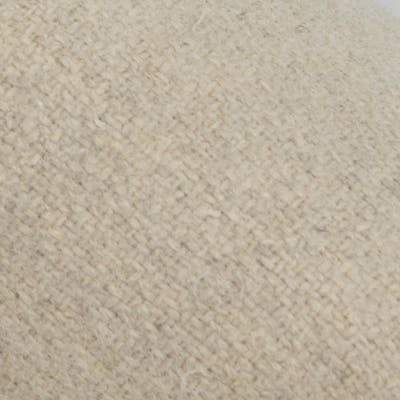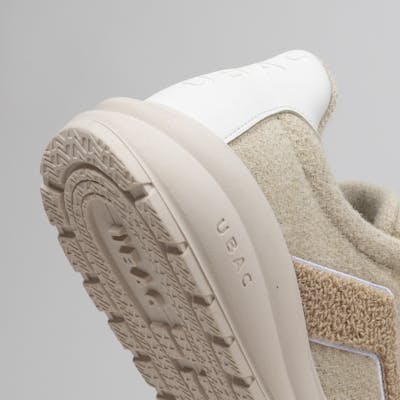 NATURAL AND RECYCLED MATERIALS
MESCLAT - Hemp and wool Insulating, soft and comfortable
Made to last - Resistant materials, easily washable
Waterproofed - To carry you anywhere, even if it rains
External sole - Natural and recycled rubber
Inernal sole - Drytech™, removable and ergonomic
LOCALLY MADE
France : Hemp & wool I Portugal : internal sole, external sole, laces, packaging
Handmade in Portugal
Deliveries & returns
Deliveries :
Free delivery in mainland France* for orders over €120.
Preparation: your order will be prepared within 1 to 3 working days.Delivery: once prepared, your order will be sent to your home address or to a relay point within 24 to 72 working hours, depending on your preference.
Returns:
Returns are free in mainland France*. You have 60 days from receipt of your shoes to benefit from free returns.
Items returned must meet the following conditions:
- they must not have been worn outdoors
- they must be in new condition
The procedure for making a return is available on the "Returns and exchanges" page*.
*Delivery costs and return costs for international deliveries are available on https://ubac-store.com/retours-echanges/.
Care
We recommend hand-washing in lukewarm water with a soft sponge or cloth.
Before cleaning, we recommend removing the laces and soles.
Composition & details
Composition :
Upper and lining in hemp (50%) wool (50%) - FRANCE
TR Extragrip™ outsole (35% recycled materials) - PORTUGAL
Recycled polyester laces (100%) - PORTUGAL
Drytech™ recycled PU insole (95%) and other synthetic materials (5%) - PORTUGAL
Details :
A trainer designed for intense everyday wear to accompany you on all your adventures in the city or out in nature.
Embroided logo and eyelets
Details with engraved logo on inserts
Waterproof, ultra-comfortable mesclat upper
Strobel assembling
Running-inspired outsole with cushioning technology and anti-slip grips 
Assembled with a solvent-free adhesive (water-based adhesive).
Recyclability
Future is recyclable
VOLKAN is a 100% recyclable trainer. It can be returned to Ubac by writing to us at contact@ubac-store.com to be recycled and reintegrated into future productions.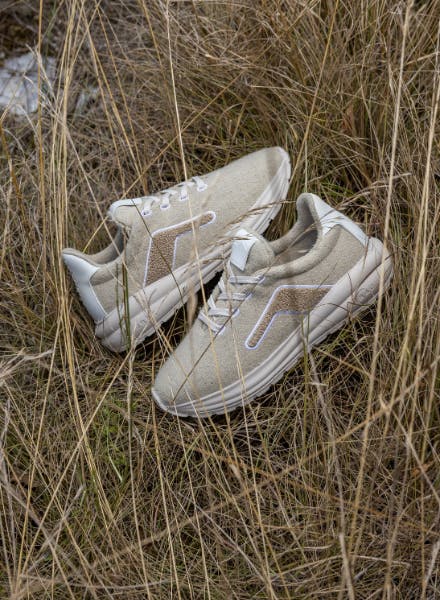 MESCLAT
A 100% French hemp and wool fabric
Mesclat (meaning 'blend' in Occitan) is made from 50% hemp and 50% wool. It is produced by Virgocoop, a French citizens' cooperative. It encourages the revival of a declining hemp textile industry and saves sheared wool destined to be thrown away. Ubac has been a member of Virgocoop for many years, and is involved at the heart of this revival of natural, local textiles.

For example, mesclat involves almost 80 hemp farmers and 20 ewe breeders.
HEMP
Adds value to an ultra-ecological and French fibre
In agriculture, hemp grows without pesticides or irrigation, and cleans the soil. With its partner farmers, Virgocoop produces textile hemp, which is then processed into short fibres. There are several ways of spinning hemp, but the know-how of the textile hemp industry, which was very present in France until the middle of the 20th century, has practically disappeared. Today, the cooperative is still unable to spin 100% hemp without outsourcing production.

By using short-fibre hemp mixed with wool, it is possible to carry out all the processing stages in traditional Occitan carded spinning mills. The result: a 100% French, 100% natural, 0-dye fabric that enhances the value of an entire industry.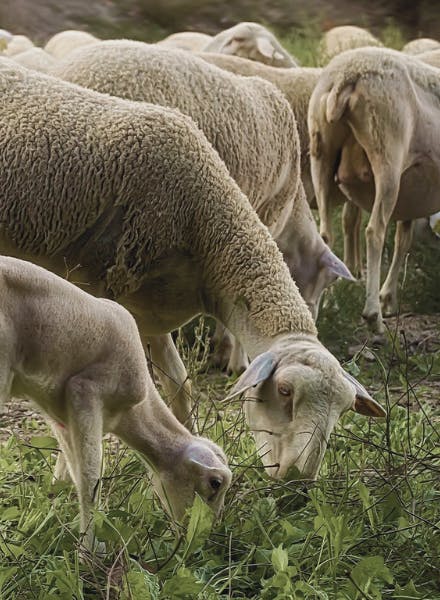 WOOL
Saves wool from destruction
For years, wool has been destined for destruction due to a lack of textile applications, but Virgocoop now harvests it from farmers in Lozère. This provides additional income for the producers, and promotes a highly valuable material: natural, thermo-regulating, insulating and anti-bacterial.

Mesclat saves 12,000 kilos of wool from being thrown away.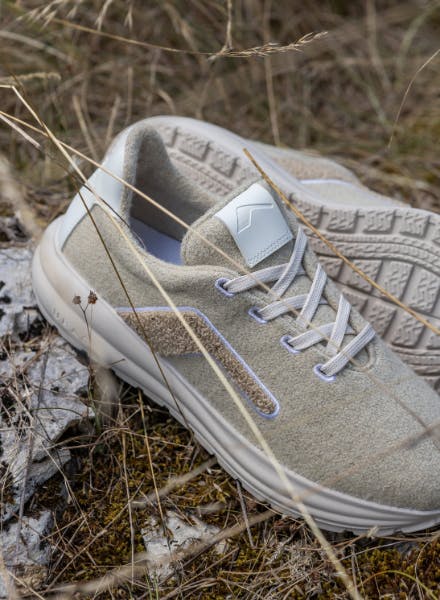 PROPERTIES
An exceptional natural material and 0 dyes
Mesclat is a fabric that combines the virtues of hemp and wool to create thermo-regulating products that keep you cool in summer and warm in winter.

Hemp and wool are also highly resistant and anti-bacterial, helping to prevent unpleasant odours. Natural to the core, mesclat is not dyed, avoiding the use of water and chemical products.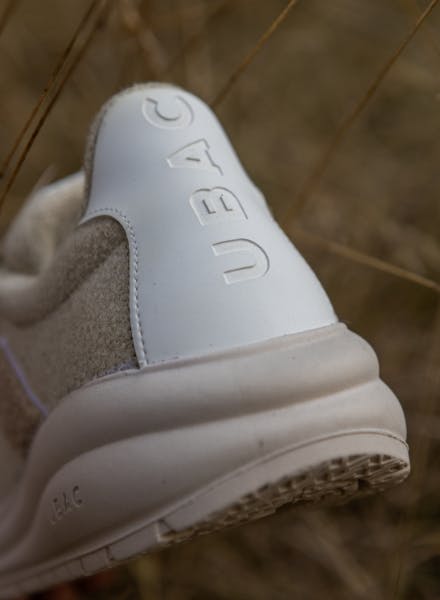 SOLE
Internal
Drytech™
This ergonomic insole uses production waste and recycled rubber
External
Extragrip™
The Extragrip™ sole is made up of 35% recycled materials. Ultra-resistant and equipped with cushioning technology, this sole reinforces the extreme comfort given to this trainer. Non-slip grips allow you to tackle any terrain.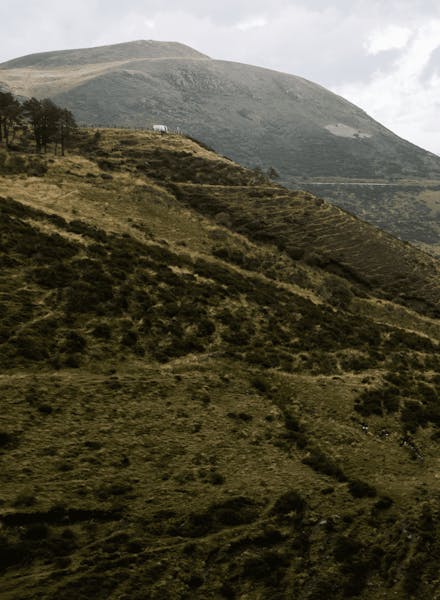 ACTION
1% for the LPO
Because nothing beats action, we donate 1% of our sales to the Ligue pour la Protection des Oiseaux, a French environmental protection association.
Our donations are freely allocated to species protection, conservation, education and awareness-raising.